Discover more from Love Says Yes
Unconventional relationships and self-love for humans with enormous hearts. Created by Andrea in SLC @trailstoself
Polyresonance: Actually What I Love
I love love, but resonance and deep connection is where it's at.
I can intimately connect, be attracted to, and fall in love with more than one person. Because this is true AND I'd like it to be something I practice in my life, I choose ethical non-monogamy (or polyamory depending on your preferred terminology).
But the root of polyamory ("many loves") captures merely one part of what really does it for me. What really gets my senses lit up and my neurons tingling and my butterflies flapping, is RESONANCE. Synergy. Deep mutuality. Spiritual intimacy. Synchronicity. Limerence. Cosmic connection. What-ever-you-want-to-call-it doesn't matter to me.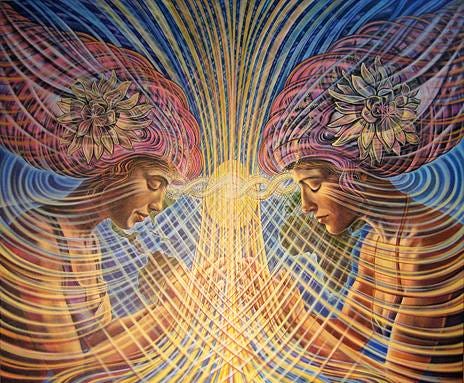 [Amanda Sage image: dear gawd go buy her art because it's amazing]
LIMBIC RESONANCE
is that feeling you get when
you meet someone and immediately feel like "there's something here"

you have a conversation that never wants to end

looking—no, gazing—into someone's eyes is both daunting and delightful

seeing their obviously similar experience when they connect with you gives you goosebumps

you could be apart from someone close and that time is both endless and inconsequential

seeing their naked happiness from literally *anything*—watching a sunset or composing music or connecting with someone new—leaves you glowing

you experience moments of synchronicity: this one's hard to describe unless you know it. and you do - you just KNOW IT.
I could go on. But I think you get the picture.
These are feelings that I get in situations all over my relationship spectrum. They can look like this: grounding into breath with my coach, sharing a perfect song with my brother, the smile from a video message with a new love interest, radiant joy in a connected moment with my partner, the gleam in the eye of a lover, emotional intimacy with an ex who will never not be a soulmate, or the tender hug from a years-long friendship.
AND WHO WOULDN'T WANT MORE OF THAT IN THEIR LIFE?
Wow. Who wouldn't want more of that in the lives of the people we love?
I'm not intending to give the hard sell on polyamory. I'm attempting to tell MY story of why it is and has made for an unbelievably joyful and expansive 16 months. I continue to write my story, complete with the heroine's journey and dragons. Every moment is precious and divine, even the pain. I choose to do it no other way.